Discover more from The Sobremesa by Tessa
Sobremesa is the untranslatable Spanish term for the time spent around the dinner table after a meal. I share recipes and stories that illuminate the beauty that food has to forge human connection...we'll also laugh along the way :)
The Sobremesa 03.
let's talk about lemon blooby pound cake
Here I am, death gripping a bag of the last of my frozen Maine wild blueberries from a trip I took there in early August. Cooking the last of these blueberries means, of course, that there will be no more. No more until next summer. Which means that summer is really ending.
Summer is (obvi) the best season. We wait all year for this time of year. The fruit is sweeter, the clothes are cuter, the people are nicer, and there are frolicks galore. I was particularly excited for this summer, as I had moved to NYC pre-COVID in the dead of winter - a particularly grim time to be in this city - and everyone told me just wait until summer, it's so fun here in the summer!
Alas, 2020 served us up a pretty different summer that we all expected. Instead of frolicking and wearing cute clothes we were still in the thick of a full fledge pandemic and faced some extremely difficult truths about our country: mainly deep systemic racism and lack of regard for the health and safety of our most vulnerable citizens. Me and my friends kicked off this summer by protesting, having real conversations about the atrocities many face every day, how we are complicit in these horrors, and what we can do to be better. It was real, raw, and honest and it felt like a slap in the face to wake the eff up.
Wake the eff up indeed. I looked deep within myself and I asked what someone like me, who honestly doesn't really have much authority in policy change, can do beyond talking a lot and posting an inspiring recycled quote on social media. What are my skills? What are my passions? What can I bring into this kinda horrible world? I was stress baking a lot during this time.
And I realized that there is nothing I love more or gives me more purpose in life than sparking joy in others. After growing up in bakeries, and working my whole life in coffeeshops, I learned that there's so much power in the small joys in life. There's true beauty in simply looking at a stranger in the eye and asking how their day is, or seeing them take a bite of a cake and smiling. We all want to feel seen, heard, and given the basic human right to live and enjoy these lives. I may not be Changing the world (with a big C) but I'd like to think in these little moments, I'm doing my part to change the world (with a lil' c). And that's okay! What I learned, is that the point is go in, instead of look at. Find your unique skills and passions and bring it forth to the world. Don't just sit on the sidelines.
This is why I cook and bake - for me, food is that is a conduit for human connection and joy. This newsletter is here to share that with you so that you can share that with someone else, who then shares it with someone else, and so on.
So while this wasn't the typical summer, it was exactly what I needed. It was a reminder to me to continue to spark joy and to see sparks of joy around me. I saw joy in the little moments this summer - there were to-go cocktails, dance parties in the streets, and picnics in the park. And it was the best summer of my life - maybe because I really appreciated the little beauties in life. Which brings me to these blueberries…
We headed up to Maine in August for an adventure after being in NYC for the entire pandemic. For my man, that meant running up a mountain every day to catch a thrill, and for me it meant eating everything in site in this foreign land called Maine. The hype around Maine wild blueberries is real, so as soon as we arrived in Maine, our first stop was at a blueberry roadside stand. And these little suckers really lived up to the hype. I don't know how they pack so much yum in such a tiny berry - but thank you, God / Mother Earth / Maine / whoever you are. I savored every tiny single one and made so many cakes, pies, and pancakes with these badboys. I even brought a stash back to continue the adventures in Brooklyn - you know, to keep SUMMER FOREVER!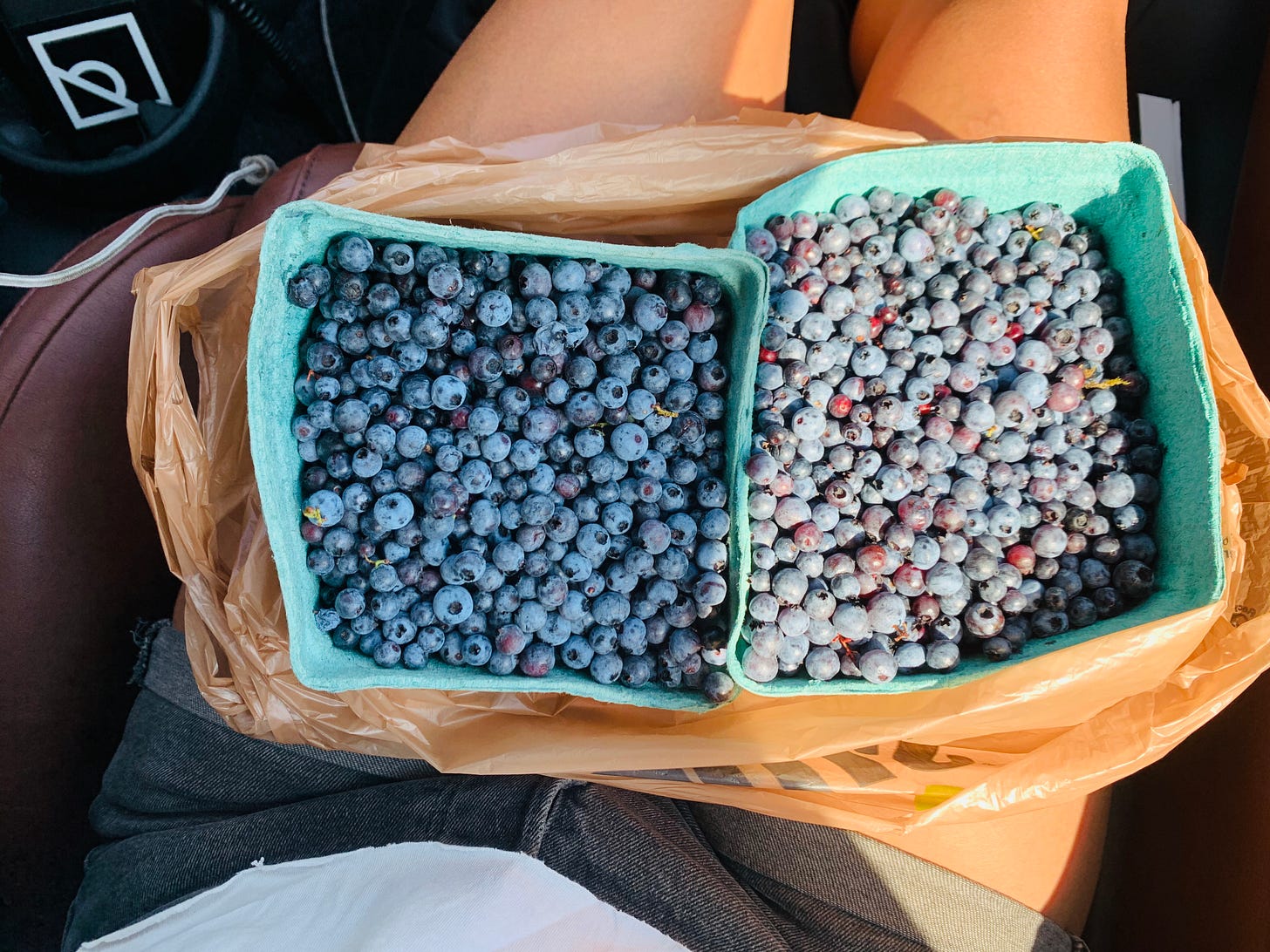 Unfortunately I could only reasonably bring back so many blueberries and realized summer would not be lasting forever. So here I am, looking at the last few cups of my wild blueberry reserves and it's my moment to really honor them and this beautiful summer. I decide to make a blueberry pound cake. Why? Pound cakes are the most flexible dessert! They're not too sweet, so even that annoying friend of yours who doesn't "have a sweet tooth" will dig it. They last forever ever, so you can slice that shit up for days. Your boo will love it, your amigos will love it, Grandmas love it (you know, the one you were planing to have that talk about systemic racism with). You can have it with coffee in the am (cake for breakfast? cool!) or serve with ice cream in the pm. The pound cake will be the best way to enjoy them the longest, by the most people, in the most amount of ways. It's such a joy-spreader.
Here is a slight adaptation on my mother's recipe, which she got from her grandmother. Spoiler alert - we also use this recipe for all of our pound cake variations for twenty years at Baked&Wired - MEGA KEY! This recipe is truly timeless. I decide I will call this version lemon blooby pound cake, because it's so much more fun than saying "blueberry" (try it!)
Don't have wild blueberries? No problem! Any berries you want will work! Try regular blueberries, strawberries, raspberries, blackberries, etc.. And you can get 'em frozen too (just make sure you run water over to dethaw). I'm also including a recipe for buttercream to drizzle on top if you're a sweetie-poo, but trust me this taste awesome without as well.
I'm using a bundt pan here, purely because I think it's cute as hell. But you can use a good old-fashioned loaf pan as well. OR you can adapt this recipe to make muffins! Choose your own adventure! I'll never pressure you to follow my recipes exactly ; )
Lemon Blooby Poundcake
1 ½ cups all-purpose unbleached flour, 1 ½ cups whole wheat flour (I do 50% wholewheat flour bc I like the nutty taste, but you can do also do 100% all-purpose. Note, if you want to do 100% whole wheat flour, your cake will be quite dense)

1 tablespoon baking powder

1⁄2 teaspoon baking soda

3⁄4 teaspoon salt

1⁄2 teaspoon cinnamon

10 T. (1 stick + 2 T) unsalted butter

2/3 cup light brown sugar

1⁄2 cup sugar

2 large eggs

1 ½ cups of sour cream (Yes, I said sour cream! This will make your cake super soft and fluffy with a slight tang. If you have a thing against sour cream, you can try full-fat greek yogurt instead.)

Zest of 1 lemon
Lemon buttercream
2 pounds 10x confectioners sugar (also known as powdered sugar)

1/4 teaspoon salt

1 ¼ stick butter, softened

1 tablespoon vanilla extract

1/2 cup evaporated milk
Ok, leggoo!
Set your oven 350. Butter up your bundt pan, add a small handful of flour to dust the sides. You can rotate the pan around to get the flour equally distributed. Toss any excess flour.
Grab a medium bowl and whisk all of your dry ingredients - so that's the flour, baking powder, baking soda, salt, and cinnamon.
With an electric mixer, cream the sugar, brown sugar, butter, and lemon zest until whipped and fluffy, about 3 mins.
Add the eggs one at a time, mixing to blend, and scraping bowl down after each incorporation.
Add 1⁄2 of the dry mixture to the wet mixture, blending just to coat. You don't want to over mix here.
Mix in sour cream.
Mix in remaining half of the dry ingredients.
Fold in 1 cup of wild blueberries, or 2 cups of regular blueberries (or other fruit).
Bake for 50-60 minutes (or 20-30 minutes if you're making muffins). You'll know it's finished when the edges are golden and when you stick a toothpick in and it comes out clean (or with dried looking cake stuck to it). If you don't have a toothpick, a knife will do.
Make your buttercream by mixing all the ingredients together with an electric mixer.
If you're using a bundt pan, allow the cake to completely cool, and then place a plate on top of the cake and gently flip over onto a plate (so, upside down). If you're using a loaf pan, just allow to cook completely. Drizzle lightly with the lemon buttercream. Pretty!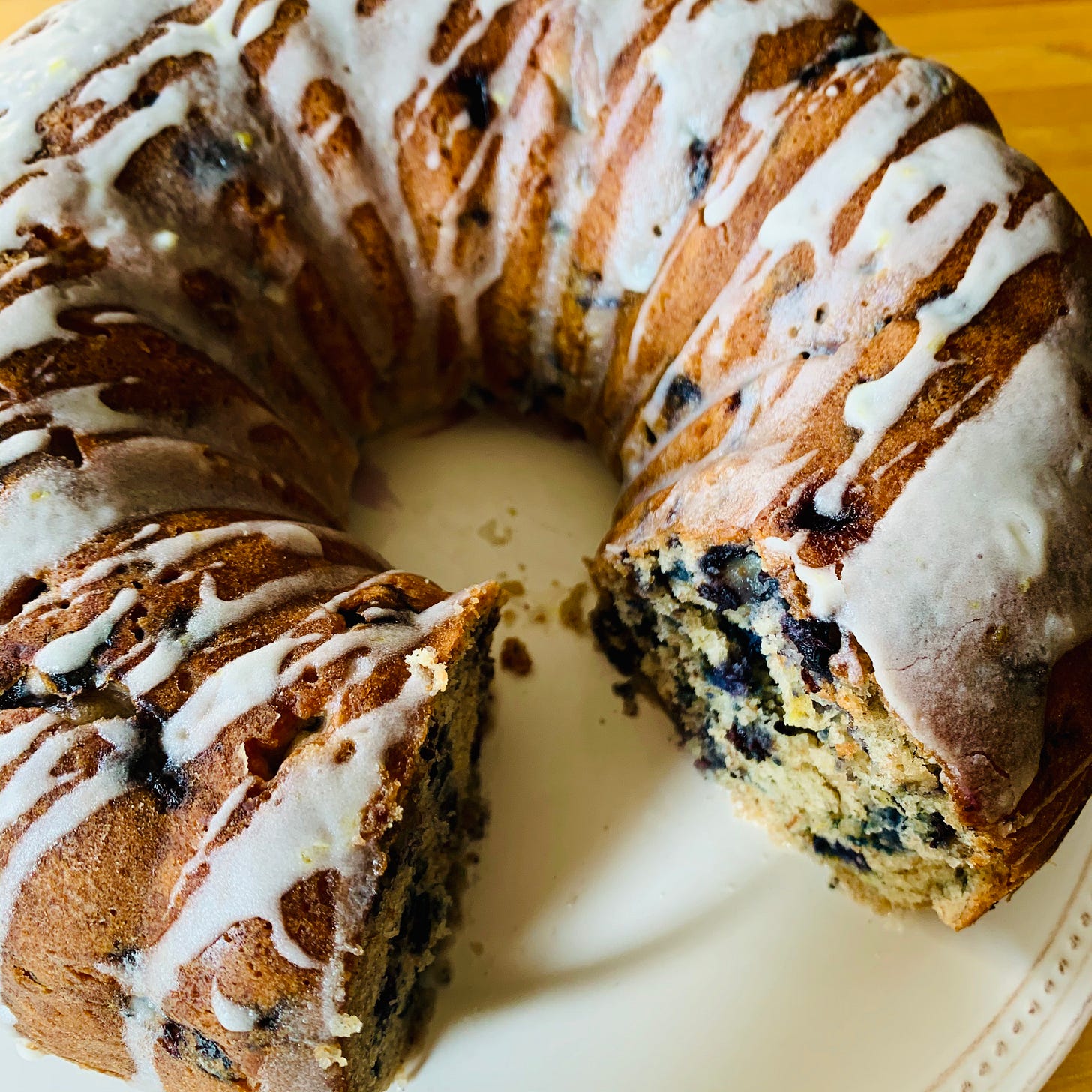 And you better believe I stretched this cake, with these precious blueberries, as long as I could! A slice here for a stoop dinner, a slice there as a gift to a neighbor, a slice here over a cup of coffee. The Sobremesa today is all about getting out there, even when things seem miserable, and spreading some joy to yourself and those around you. It really can be as small as saying hello to your neighbor on the street. Or better yet, make this cake and share it with your neighbors! We all need that.
Happy baking. Love you mucho.
Tessa